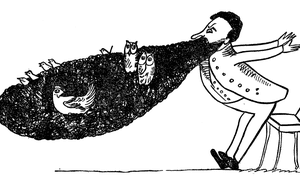 Lear was spending most of his days at the zoo, a haven after an uncertain childhood and youth. Born in Holloway in 1812, he was the 16th of 17 children of a London stockbroker (he liked to say the 20th of 21, which seemed more poetic). A frail, short-sighted child, he had bronchitis and asthma, and was also epileptic, something he kept hidden all his life. When he was four, a financial crash ruined his father, and his weary mother turned him over to his older sister Ann: he never forgave this maternal rejection. Ten years later, he and Ann took rooms in Gray's Inn Road, and he saw himself as someone who "at the age of 14 & a half, was turned out into the world, literally without a farthing – & with nought to look to for a living but his own exertions". He made money by selling sketches in inn yards, colouring prints and fans, and making "morbid disease drawings" for doctors. Then a well-off connection won him permission to sketch in the zoo – a rare privilege, as other artists were denied entry.



Full The Guardian Article HERE
*~*~*~*~*~*~*~*

I am a big fan of Edward Lear - my first auditory memory was hearing Lear's Calico Pie - hence my moniker.
Well, I think this has been a spoiler as Mulder appears to be fully recovered (he wasn't too hot the last time we saw him) and with Gillian Anderson's departure from the series made public, it does look like it could be curtains for the show. More on the
Digital Spy
topic
HERE
While we are on the subject, here once again is the clip from the last season, where Mulder is 'Shrooming it Large' with the good ol' boys.
(
Collapse
)