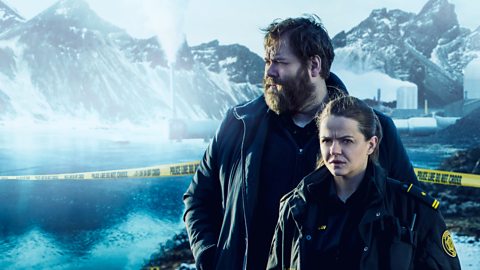 I have been a fan of Iceland for a fairly long time. I was very much a Bjork fan and whilst watching interviews of her in her native Reykjavik, I paid a lot of attention to the backdrop. I have always wanted to go to see the volcanoes and ice floes etc. So when
Trapped
turned up on Beeb 4 a couple of years ago, I was naturally interested. It has to be said, I didn't know what to make of series 1, but I kinda got into the groove of it. Series 2 has been a lot better, though a few things perplexed me. W
hy was Inspector Norse was playing 20 questions with the killer? It is not like he doesn't know his own daughter is likely to be bound and gagged in a Scandinavian ravine.
Andri
: Animal/Vegetable/Mineral.
Me: WTF? Andri - Thorhildur is drowning in a puddle. Can't this speed up a bit?

Second thoughts, no leave her there.

Still, I enjoyed it - nay even shed a tear when a key character died. As for the rest, well, no spoilers but all I can say is, don't fall over in a pig sty at dinner time. Or any other time. Love, love LOVE Andri (aka Olafur Darri Olafsson who stands at 6ft 5in as looks like a giant, wooly bear) and the taciturn Hinrika (Ilmur Krisjansdottir). What's not to love, though both could do with cracking a smile now and again.