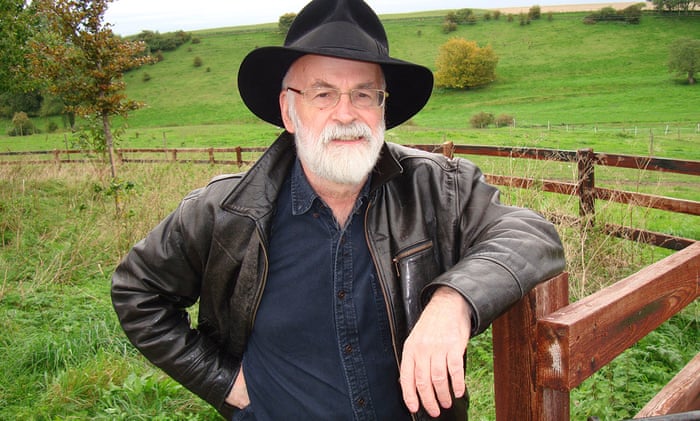 Unpublished works are lost for ever with crushing of computer hard drive – as the late fantasy novelist had instructed.
The unfinished books of Sir
Terry Pratchett
have been destroyed by a steamroller, following the late fantasy novelist's wishes.
Pratchett's hard drive was crushed by a vintage John Fowler & Co steamroller named Lord Jericho at the Great Dorset Steam Fair, ahead of the opening of a new exhibition about the author's life and work.
Pratchett, famous for his colourful and satirical Discworld series,
died in March 2015
after a long battle with Alzheimer's disease.
After his death, fellow fantasy author Neil Gaiman, Pratchett's close friend and collaborator , told the Times that Pratchett had wanted "whatever he was working on at the time of his death to be taken out along with his computers, to be put in the middle of a road and for a steamroller to steamroll over them all".

Original The Guardian article HERE
*~*~*~*~*~*~*~*
As a die hard TP fan, I have mixed feelings about this. I was reluctant to read The Shepherd's Crown, as it was his final goodbye - I cheated and listened to it on Audible. Others had felt like this too, but stoically understood that it was Terry's wish for all unfinished works to be destroyed (The Shepherd's Crown notwithstanding as TP was almost finished and someone else had to round it off as he had become too unwell to do it himself). There was a part of me who wanted to know how Sam Vimes/Nanny Ogg/Mistrum Ridcully/Tiffany Aching would fare in other novels (though I suspect that Vimes' story had finished with him, Sybil and Young Sam going off into the sunset). Feature writer Stephanie Merritt felt the same in her article, but felt that perhaps Pratchett didn't want to do a 'Stieg LarssonHarper Lee' etc.

As a fan, I would have wanted the glimpses - as a person who has written copious assignments for my degree, I would cringe if people saw my stuff at draft level (TBH, I cringe when I send them in for marking in mint condition). Plus, I would object to someone taking my ideas and reimagining them under my name - I guess I might struggle on AO3.

So long, lovely book imaginings - to misquote Captain Carrot Ironfounderrsson, "personal [indeed] is not the same as important".
X-Clacks-Overhead: GNU Terry Pratchett