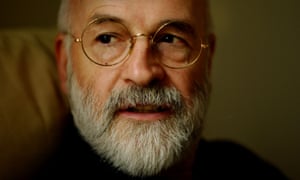 I knew when Sir Terry Pratchett died, it was going to be a big impact on me. I had an 'Elvis' or 'Freddie Mercury' moment when I remember the time and the place where I learnt of his passing (I was outside in the freezing cold, waiting for a bus from college to the park and ride). Now, I have never been the one to mourn a celebrity's passing - but STP was a big part of my young adult life and I mourn him still - occasionally tearing up. I randomly picked up Wyrd Sisters whilst visiting my mother in hospital and found myself reading it and inappropriately laughing (especially since my mother had a passing resemblance to the earthy Nanny Ogg) instead of paying homage to my dear Mama.

Strangely, his work impacted upon my mature adult life, too. Acute observations of society, wrapped in gentle satire - STP was a soothing read and I appreciated my 'frequent flyer' trips to Discworld; each book a doorway to Lancre, or Ankh Morpork etc. Below is an excerpt from today's Guardian - with more under cut below.

*~*~*~*~*~*~*~*
A year after the writer's death from Alzheimer's, a tribute in London drew together fans and friends from Neil Gaiman to Tony Robinson – and left us with the feeling Pratchett's legacy is in safe hands.
Pink-haired twentysomethings lined up alongside bearded gentlemen wearing top hats and tails as readers gathered at London's Barbican to pay tribute to Terry Pratchett a year after he died from Alzheimer's. A crowd whose diversity bore witness to the bestselling author's wide appeal were united in grief and celebration.
For fans such as Stefan, who applied for tickets to the free event via a public ballot, the sadness at Pratchett's untimely death was still palpable.
"I haven't touched his last book," he said. "I haven't wanted to read it because I know it is the last one." Like a fine whisky, Stefan continued, he's saving The Shepherd's Crown – Pratchett's posthumously published final Discworld novel – "for a special occasion".
The evening was a celebration not only of Pratchett's life and work, but also of the people he brought together. Some Discworld fans spoke of travelling from the US and Australia. One recounted meeting her husband when she appeared in a Discworld play he was directing. The musicians and artists I spoke to, all choosing different elements of Pratchett's creative output that had, in turn, inspired their own.
Our host was Pratchett's longtime assistant, Rob Wilkins, who recalled meeting the author after queuing for a signature along with other Discworld fans, the smell of new hardbacks delivered to Pratchett's kitchen table, and how he started typing up the novels when Pratchett couldn't do it himself any more. When Wilkins asked Pratchett what he'd want at his memorial service, Pratchett replied: "To be there," adding: "knowing your mother will be in the room, I want you to use the words 'fuck' and 'bugger'."
"I was imagining we'd be here in 2038 – I'd be 70, Terry'd be 90," Wilkins said. "Wouldn't that have been lovely? But there is not a lot about that we can do, except to celebrate him."
Sir Tony Robinson read Pratchett's Dimbleby lecture on Alzheimer's and assisted dying, while the author's daughter, Rhianna, read the obituary she wrote for the Observer. Dr Patrick Harkin, whosecollection of Pratchett ephemera includes an onion pickled by the man himself, appeared alongside Discworld sculptor Bernard Pearson, as well as Pratchett's publisher, Larry Finlay, and agent, Colin Smythe.
Neil Gaiman flew in from the States to read his introduction toPratchett's 2014 non-fiction collection A Slip of the Keyboard, and found himself presented with his friend's trademark hat. Gaiman, looking a tad thunderstruck, placed it for a moment on his head, but quickly took it off again, saying: "Oh, I don't dare."
Overall, the mood was fond. There was laughter at an early Pratchett quote about writing more Discworld novels, when the author was quite unaware of the fame and books that would follow ("I don't think I've exhausted all the possibilities in one book"). Friends and editors recalled his occasional cantankerousness, his delight at cracking America and his vigorous campaigning to change the law on assisted dying. Footage from an upcoming BBC documentary about Pratchett's life showed the author – a little thinner, but still blessed with the same humour – remembering his first impressions of The Wind in the Willows as a child: "The moles and badgers go into each others' houses! They had hats! I thought: 'This is lies.'"
A raft of Pratchett-related projects and adaptations were announced or confirmed, including:



•

A BBC documentary about Pratchett's life, with footage of some of his last conversations with Wilkins.



•

A TV adaptation of Pratchett and Gaiman's novel Good Omens, to be adapted by Gaiman himself at Pratchett's request.



•

A film adaptation of Pratchett's 2003 novel The Wee Free Men by his daughter, Rhianna Pratchett.



•

A biography of Terry Pratchett, to be written by Wilkins.



•

A film adaptation of the 1987 novel Mort, to be written by the second-highest-grossing screenwriter of all time, Terry Rossio.



•

A fan-funded film of Pratchett's short story Troll Bridge, which is in post-production.



•

The long-rumoured fantasy police procedural The Watch, set in Discworld.



•

A series of Discworld encyclopedias – volume one is titled Death.


Despite the overwhelming list of announcements, fans were reassured that Pratchett's legacy is in safe hands; Wilkins insisted once more that the 10 unfinished novels sitting in Pratchett's archives would not be published or finished by another author.

It was an evening that matched the deft tone of Pratchett's work – joyful silliness mixed with wry philosophy and honest, often humorous reflections on death. A night that began with a solemn choir accompanying a montage of bookcovers falling through an hourglass ended with a rousing version of Always Look on the Bright Side of Life, led via video message by Eric Idle. Pratchett may not have been there, but there is no doubt he would have enjoyed himself.



Original Guardian Article HERE



*~*~*~*~*~*~*~*~*~*

I still can't read The Shepherd's Crown, because it is almost an admission that he is no longer here - so it will be something that I tackle at a later date. Some interesting projects on the horizon, me thinks. I would SO love to see The Watch done properly and very interested as to whom they will cast as Vimes (oh and Carrot, Nobby, Angua et al).

GNU Terry Pratchett.